Outback is in

green

on the left, Forester in

blue

on the right.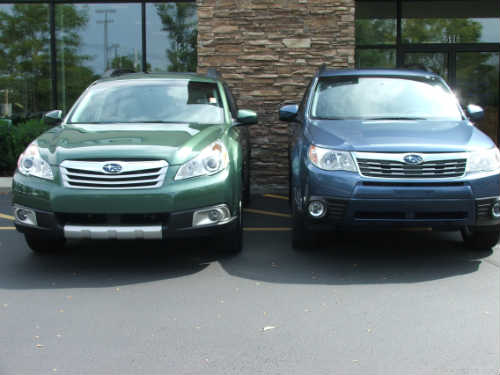 "What is the difference between a Forester and an Outback?" is the most common question we hear at Subaru of Plano.

BEFORE WE GET STARTED, WHAT DO THEY HAVE IN COMMON?
All 2013 Foresters and Outbacks come standard with all wheel drive, Vehicle Dynamics Control (VDC) to prevent skids, anti-lock brakes, ring shape body structure, six airbags, and many more safety technologies. All Subaru's come standard with Bluetooth hands-free phone and audio connectivity, air conditioning, keyless entry, cd player, power windows, power mirrors, and many other comfort features. All Subaru's purchased at Subaru of Plano come standard with a friendly staff and lots of know-how in addition to Free car washes and complimentary Loaner cars.
See our 2012 Outback inventory, click
here
See our 2013 Outback inventory, click
here
See our 2012 Forester inventory, click here
See our 2013 Forester inventory, click
here
DIFFERENCES:
Ride Quality
The Outback has a longer
wheelbase
(the distance between the axles is five inches longer than the Forester). Think of a stretch limousine...lengthening the distance between the axles provides a smoother ride because the vehicle platform covers more square area and therefore bumps are less noticeable. But don't think that the Forester has a harsh ride; in fact, it rides much better than its small sport utility competitors. It's just that the Outback is even smoother.
Dimensions
The Outback is nine inches longer and two inches wider. The Forester is three inches taller. Total interior space is about the same for both vehicles (i.e., you could put the same number of ping pong balls in both cars.) Have big kids? Go for the Outback and its limousine-like back seat. Have a big dog? Go for the Forester because the rear door on the Forester is more erect and there is more height for your pooch to stand up. Cyclists tend to prefer the Outback, as the extra length makes it easy to throw a couple bikes in the back without even removing the wheels. If you sleep in your car, and you're tall, you'll prefer the Outback.
Price
Comparably equipped, the Outback is about $2500 more than the Forester. The difference buys you a slightly bigger car, with more standard equipment, and even higher quality materials (such as carpeting and interior surface finishes).
Ride Height
You sit slightly higher in a Forester, but Subaru engineers designed both vehicles with a
"command driving position"
(the auto industry term that describes that great feeling of sitting high in a vehicle so you can see what's ahead.) Because of the boxer engine design that Subaru uses, however, the center of mass in the vehicle sits quite low so both vehicles handle quite nimbly and are very unlikely to roll over. Ground clearance is the same, at almost nine inches, so both vehicles elude obstacles that grab mortal vehicles.
Image Perception
Many customers tell us that the Outback looks more like a station wagon and the Forester looks more like a sport utility vehicle and therefore the Forester is more "cool." Subaru of Plano's staff opinion is divided on the matter, which, ultimately, is just one of taste.
Automatic Transmission
The Forester uses a four speed automatic transmission. Beginning with the 2010 model year, the four-cylinder Outback uses a continuously variable transmission (CVT) which has no gears. In very simple terms, it's a fantastically durable steel belt that moves along a cone...the fatter part of the cone for speed, the narrower part for power. This transmission gives the Outback a three mile per gallon advantage in fuel economy, even though it is slightly heavier.


Manual Transmission
The Outback uses a six speed manual transmission; the Forester uses a five speed.
Engines
The standard engine in both vehicles is the same potent 2.5 liter four cylinder boxer engine with 173 horsepower. A 3.6 liter engine is available in the Outback with a five speed automatic transmission, and a turbocharged 2.5 liter engine is available in the Forester with a four speed automatic transmission. Both engines use synthetic oil so you only have to see us every 7,500 miles for maintenance.
Fuel Economy
With the standard 2.5 liter engine and CVT, the Outback gets 24/30. With the standard 2.5 liter engine and four speed automatic, the Forester gets 21/27.